Whether you are a small Colorado business looking to better manage your local area network and ensure proper security, or an enterprise looking to visualize data centers around the country, QTS Communications can help. QTS offers the complete line of Adtran NetVanta Products for smaller businesses, and Avaya Data Solutions for larger businesses.
Small to medium data networks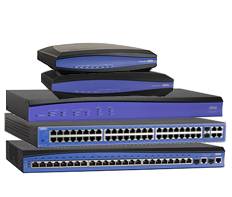 Being a small business does not mean you can get away with an unmanaged network. As a matter of fact, small organizations cannot afford to run inefficiently. Adtran addresses the Data Networking needs of small to mid size businesses throughout the world. With an easy to use Web Management Interface, you do not need to be a Network Data Engineer to ensure the security and performance of your company's network. As more and more companies adopt Video and Voice onto their network, ensuring Quality of Service can be a daunting and challenging task. Adtran addresses this need by providing user friendly wizards that do the heavy lifting for you. In a matter of minutes you will be managing your network like a seasoned veteran. Adtran provides secure mobility VPN and SSL Telecommuting and Teleworker options that help businesses compete in hiring talented no matter where they are located.  Click here to see the Adtran NetVanta Product line and the solution that fits your requirements as well as your budget.
Medium to enterprise data networks
7-2017
Important News: Extreme Networks has completed its acquisition of Avaya's networking business. Going forward, please visit Extreme Networks for Further information.
For information on Extreme's ERS Switching and Fabric please click here.
Do you want to ensure that your Enterprise Business is Green? Let QTS Communications do an energy comparison to determine how much more energy efficient your business can run, and actually gain increased switching performance. Does this sound too good to be true?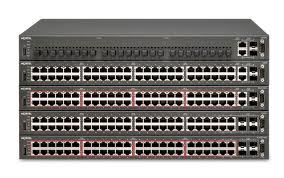 Avaya is an innovator of Virtualized Enterprise Networking Architecture VENA©. This leading edge technology allows Local Area Networks to exist virtually across multiple geographic locations. Although this technology increases efficiencies in many ways, one key component enables the deployment of Business Continuity and Disaster Recovery solutions easily, quickly and inexpensively. To find out more about VENA© please contact QTS.
Follow the links for more information on Avaya's portfolio of Data Products
Ethernet Routing Switch 2500 Series  (Discontinued)
Ethernet Routing Switch 3500 Series
Ethernet Routing Switch 4000 Series
Ethernet Routing Switch 5000 Series
Ethernet Routing Switch 8000 Series
Virtual Services Platform 7000
Virtual Services Platform 9000
Learn More:
Avaya ERS Lifetime Warranty
Avaya Stackable Ethernet Routing Switches Portfolio
Avaya Stackable Ethernet Routing Switches PDF
To learn more call today!
Phone: 303-785-6300 or Email: info@qtscom.com