Whether you are a small Colorado business looking to better manage your local area network and ensure proper security, or a national company needing to network multiple locations around the country, QTS Communications can help. QTS offers the complete line of Adtran NetVanta products for reliable, secure and easy to manage LAN and WAN infrastructure.
Small to medium data networks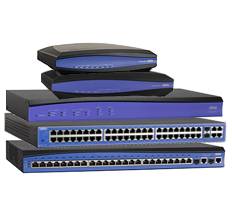 Being a small business does not mean you can get away with an unmanaged network. As a matter of fact, small organizations cannot afford to run inefficiently. Adtran addresses the Data Networking needs of small to mid size businesses throughout the world. With an easy to use Web Management Interface, you do not need to be a Network Data Engineer to ensure the security and performance of your company's network. As more and more companies adopt Video and Voice onto their network, ensuring Quality of Service can be a daunting and challenging task. Adtran addresses this need by providing user friendly wizards that do the heavy lifting for you. In a matter of minutes you will be managing your network like a seasoned veteran. Adtran provides secure mobility VPN and SSL Telecommuting and Teleworker options that help businesses compete in hiring talented no matter where they are located.  Click here to see the Adtran NetVanta Product line and the solution that fits your requirements as well as your budget.
Medium to enterprise data networks
7-2017
Important News: Extreme Networks has completed its acquisition of Avaya's networking business. Going forward, please visit Extreme Networks for Further information.
For information on Extreme's ERS Switching and Fabric please click here.
ADTRAN NETVANTA PRODUCT LINE
NetVanta 600 Series
VoIP media gateways designed to interface between TDM and IP networks allowing connection of legacy telephone and PBX systems to IP Networks.
NetVanta 800 Series
A series of Carrier Ethernet NTUs based on ITU-T G.998.2 standard for the delivery of 1, 10 and 100Mbps or more Ethernet services over existing copper or TDM infrastructure.
NetVanta 1100 Series
Redundant and Extended Power Supply unit for NetVanta Gigabit switches to ensure a resilient switch infrastructure
NetVanta 1200 Series
24- and 48-port fully managed, Layer 3 lite, Fast Ethernet switches for VoIP deployments
NetVanta 1500 Series
Portfolio of 12, 24, and 28-port managed, multi-layer, Gigabit Ethernet switches with PoE for bandwidth intensive applications, edge access, distribution and aggregation
NetVanta 1600 Series
Managed, 48-port, layer 3, Gigabit switches with ActivChassis stacking technology – ideal for campus networks and core switching
NetVanta 3100 Series
Full-featured, fixed-port access routers perfect for secure Internet access or high-speed corporate connectivity using broadband access such as DSL or cable.
NetVanta 3200 Series
Modular Access Router offering a single interface slot and a single Ethernet LAN port for applications requiring up to two T1s.
NetVanta 3300 Series
Modular Access Router offering two interface slots and two Ethernet LAN ports for applications requiring up to three T1s.
NetVanta 3400 Series
Single slot/Dual Ethernet performance-enhanced Multiservice Access Routers delivering high-packet throughput required for IP Telephony, corporate connectivity, and Internet access.
NetVanta 4000 Series
Modular Access Router offering three interface slots and two Ethernet LAN ports (Fast or Gig) for higher-bandwidth applications supporting up to eight T1s or 750Mbps of Carrier Ethernet.
NetVanta 5000 Series
Modular Access Router offering six interface slots and two Ethernet LAN ports for higher-bandwidth applications supporting up to two unchannelized T3s.
NetVanta Modules
Optional add-on modules for adding capacity and services to ADTRAN's NetVanta Series