ADTRAN provides a full line of powerful, business-class ethernet switching and router solutions for all your network needs. NetVanta ethernet switches are perfect for small, medium and mult-site Colorado businesses. Adtran addresses today's networking priorities from bandwidth expansion, VOIP adoption, network security and wireless connectivity.
Whether your are a SOHO worker or in a office with thousands of employees, Adtran understands that the network must be fast, secure and reliable. For that reason Adtran developed the NetVanta family of business class products to provide Colorado businesses with an abundance of affordable, secure and proven networking products.
Small to medium data networks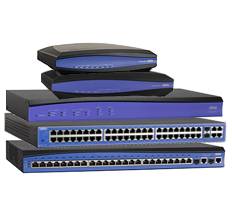 Being a small business does not mean you can get away with an un-managed network. As a matter of fact, small organizations cannot afford to run inefficiently. Adtran addresses the Data Networking needs of small to mid size businesses throughout the world. With an easy to use Web Management Interface, you do not need to be a Network Data Engineer to ensure the security and performance of your company's network. As more and more companies adopt Video and Voice onto their network, ensuring Quality of Service can be a daunting and challenging task. Adtran addresses this need by providing user friendly wizards that do the heavy lifting for you. In a matter of minutes you will be managing your network like a seasoned veteran. Adtran provides secure mobility VPN and SSL Telecommuting and Teleworker options that help businesses compete in hiring talent regardless where they are located.  
ADTRAN NETVANTA BUSINESS ETHERNET SWITCHING
ADTRAN NETVANTA BUSINESS ROUTERS AND IP GATEWAYS
ADTRAN WIFI AND WIRELESS