AVAYA PREMISE BUSINESS TELEPHONE SYSTEMS – IP OFFICE
For certain businesses, moving their phone system to a Cloud Solution is not a good option because it is more expensive since there is cost associated with many unnecessary features.  For businesses that have many positional or convenience phones, like a Manufacturing Facility, a School, or a Hotel/Motel, paying for a monthly subscription per device is expensive and unnecessary.   This is where a premise telephone system fits best.   As a CAP-X investment with minimal ongoing expense the cost is predictable and as compared to a Cloud Service, far less expensive. Even though many businesses will move to the Cloud for communications, there will always be a situation where a premise system is a better solution.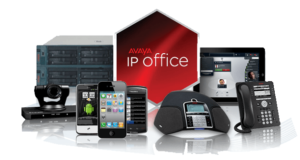 AVAYA IP OFFICE is the solution chosen by 100 of thousands of customers for their premise requirements.  IP Office is a hybrid solution that can support traditional analog devices (fax, paging systems, credit card machines, cordless telephone, etc.), digital telephones (great for environments where the cost to retro CAT5/6 Cabling is prohibitive), as well as newer technologies like VOIP, SIP and Mobility Options.  IP Office is an elegant Premise solution that allows easy adoption of newer technologies while still supporting reliable legacy applications and infrastructure.
Download IP Office Brochure OPT 2023.
Choose how you wish to communicate with a wide variety of endpoints and mediums, from regular voice communication to muti-party conference engagement and collaboration.